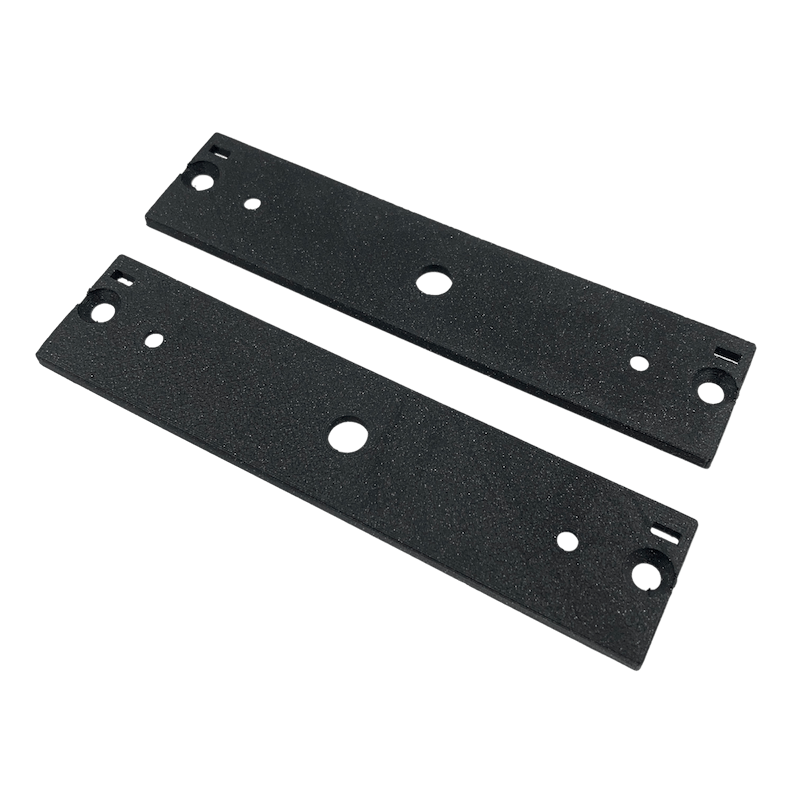 available, delivery time 2-5 days
Product information "Side Brackets - 3U-3D-STD-A-BLK"
Side Brackets 3U - 3D Printed - Standard Rails - Type A - Black
• Cheap alternative for Alu side brackets
• You can insert threaded strips or slide-nuts without dismounting the frame
• Beautifully rounded corners match the lid of the rails

This is only the brackets (always one pair), NOT the rails or whole frames! You need additional rails, M5 screws and threaded strips or slide-nuts. Others might call them side-parts, side-cheecks or side-panels.

With these brackets you can easily build stable and precise Eurorack frames and mount them in your DIY case. Just take your rail length + 2x3mm and you have the resulting width of your frame.

There are some different rail types on the market - these are made for the Exploding Shed rails. Might fit for others, but you should have a closer look before. We won't take scratched side brackets back! When you buy all stuff here, you are sure that all fits together in the end.

Standard Rails vs. Low Profile Rails
It is possible to use the side brackets made for standard rails with low profile rails instead  Then you have an overhang at the back, but who cares, as you don't see it later.

Type A vs. Type B
Never mix Type A with Type B stuff! That won't fit.

Height: 3U & 1U - What does it mean?
One normal Eurorack module is 3U in height. 5U would be the bigger Moog format, but we're mainly all Eurorack addicts here. 6U is basically 2 rows a 3U then. 1U is the smaller "tile" format which exists as Intellijel size and the less prominent Pulp Logic size. We focus on Intellijel size here.

Screws vs. Brackets
All side brackets are 3mm thick. With the standard M5 countersunk screws it might happen that the transition between threading of the screw and screw head (where it's still slim) looks slightly through the bracket in direction of the rail. To make the bracket really sit 100% tight on the side of the rail, you probably have to use a countersink (drill) like this (https://www.obi.de/senker/lux-handsenker-hss-12-mm/p/4949624) or this (https://www.obi.de/senker/lux-senker-comfort-12-mm/p/5816764) to open the hole on the rail side a bit and make sure the last 1/4mm or so of the screw head can sink through the bracket into the hole of the rail itself. Then the construction will be maximum stable. You have to do that yourself.
| | |
| --- | --- |
| Color: | Black |
| Profile: | Standard |
| Type: | A |
| Format: | 3U |
Manufacturer "Exploding Shed"
We are enthusiastic nerds from Leipzig who are dedicated to synthesizers and DIY of any kind. We're passionate about developing, producing and distributing products that we ourselves are convinced of. We love to work out clever solutions for challenging problems. In our team, everyone has their own strengths that they contribute to the collective result. And we do this with genuine commitment.